Jodi Langston
Author of Always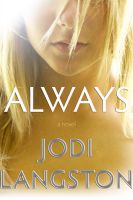 Available at Amazon amzn.to/o8Hb4w
and
Smashwords
http://www.smashwords.com/books/view/24647
And Barnes and Noble http://bit.ly/sOmkf4
http://bit.ly/sOmkf4
see my five star review at
http://welllread.blogspot.com/2011/08/review_3725.html
And Nature of the Beast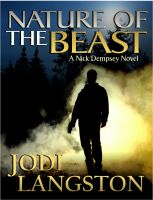 Available at Amazon
http://amzn.to/rtGsdN
Smashwords
http://www.smashwords.com/books/view/29489
Barnes and Noble http://bit.ly/tgsJLd
5 star review here
http://welllread.blogspot.com/2011/08/review-nature-of-beast.html
Interview with Author Jodi Langston
1.) What or who inspired you to write? And how long have you been writing?
I think TV and the fact I had a story to tell. When I first learned to write I would write and illustrate a story with my crayons and bring it to my mother to read. I guess my first genre was Westerns. I went through a poetry phase and still write it today. There's a poetry corner on my blog.
Nick, from Nature of the Beast was inspired by a walk in my favorite woods. I was thinking about who would be the perfect man. He kicks ass and writes poetry and likes hockey.
2.) Some writers find they plot their novels then write them they are known as plotters others just write as the ideas come and are known as pantsers. Which are you or are you a bit if both?
Both, but mostly panster. I usually get the whole story at once so it is just a matter of filling in the details. I frantically write down what I need to in the beginning, then go from there. I have outlined a Viking romance which I normally don't do.
3.) As a writer do you find yourself trying to put yourself into your character's mind?
I am so connected to them I don't always have to. Sometimes they will just pop into my head and take over. If I write the wrong thing they let me know.lol I like to let the characters take me where they want to go.
4.) Who are your favourite authors?
Everyone who knows me, knows it's Robert Crais. I love his character Joe Pike, and I write fan fiction for the character. Joe and I are kindred spirits. It figures my perfect men would be an imaginary characters.lol I've enjoyed Iris Johanssen, Linda Howard Nora Roberts, I just read a Barry Eisler novel, his John Rain, character is unusual. I haven't done much reading this year. I have enjoyed reading all of your stories!
5.) What can you tell us about your books Always and Nature of the Beast
Always
, is about a woman who was nearly killed by her abusive husband. She had developed a close relationship with the cop, Rick, who always came to her rescue. She deals with PTSD and brain trauma. I think of it as a story of survival. Alex has to decide if she wants to live her life in fear or try to live a normal life again. There is a very big part of myself in Alex because I was a victim of domestic abuse. It was my attempt to show the world what goes on and how hard it can be to learn to trust again. Some say Alex is weak, but she ends up strong in the end. Not everyone will 'get' the story.
Writer, Alexandra Martinson, awoke from a coma, ten years ago not remembering Detective Rick Ryan and the love they shared. As Rick readies himself to tell her how he feels, fate throws another obstacle in his path, actor Thane Hunter. When Alex's ex-husband, goes in search of revenge, Rick and Thane must work together to save her. Only one man will do whatever it takes to make sure she survives.
Nature of the Beast
is a story that ends up in Minnesota, my home state. I try to capture some of our scenic beauty. I think Nick is a good fit for Minnesota. Nick is extreme, a warrior poet. I like a man of action who can express how he feels!
Blurb of Nature of the Beast
Homicide cop, Nick Dempsey's life is filled with turmoil and tough decisions after a near-fatal injury. He realizes his career and relationship with actress, Kathy Tyler, are both at a standstill and reluctantly leaves L. A. and Kathy behind. Nick takes the job of sheriff in a northern Minnesota town. Can Kathy and Nick rekindle their love before a serial killer takes her from him forever?
6.) When can we look forward to the sequel of Nature to the Beast?
My health has been a huge issue for me this year. It's hard to focus on my characters when it takes all my energy to get through the day!
I'm almost done with Ties that Bind, but then I've been saying that all year. I had to do a major plot change and it just sucked the energy out of me. I never got my momentum back. What I had planned came true and I didn't think I could move forward without people thinking I was copying current events. Luckily, it all didn't come true! I've taken Nick down a darker path and that could be part of the problem, too.
I've also finished the movie scripts based on the novels. I also wrote a script for someone, we hope to get it to Sundance, etc. Casting and funding are a big projects, but that's not my responsibility.
Sheilagh says : That is very exciting I'd love to see your work on the big screen.
7.) Thank you for granting this interview Jodi. Would you like to give away a copy of your book on this blog?
I would be delighted to give one lucky reader a book.
Winner must tweet /and or post on facebook about about Jodi's books
With this phrase ---

Check out @wildypoetic Jodi Langston's books Always amzn.to/o8Hb4w and Nature of the Beast amzn.to/rtGsdN
And click like on Amazon for both books
Comment below on this interview.
Leaving your name and email address
+1 Link to your Facebook post
Contest runs until Monday December 5, 2011 at 5pm EST
you can reach Jodi at